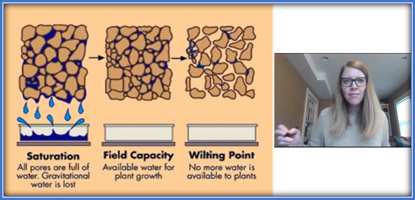 Instructor: Dr. Amy Kaleita, Iowa State University
Overview: This short module provides an overview of basic soil and water terms, concepts, and measurements that are used in drainage and irrigation.
Outline, Summary Notes, Homework, Quiz
After completing this module, students will be able to:
Define key terms about soil water
Define objectives of irrigation and drainage using these concepts
Explain methods for soil measurement.
Step by Step Guide to Complete the Module:

This material is based upon work that is supported by the National Institute of Food and Agriculture, U.S. Department of Agriculture (award number 2018-70003-27661). Any opinions, findings, conclusions, or recommendations expressed in this publication are those of the author(s) and do not necessarily reflect the view of the U.S. Department of Agriculture.