Site-specific videos documenting  successful drainage water recycling in Michigan, Minnesota, and Missouri.
The Drainage Water Recycling Spotlight videos on this page examine the goals that drove implementation each site, as well as benefits received and lessons learned from each of these case studies. The  goal was to provide a virtual field trip experience, where the viewer gains an understanding of the goals and challenges specific to each site.   
Individual videos and descriptions are provided below.
Drainage Water Recycling Spotlight: Partnerships in Missouri - The Missouri Land Improvement Contractors Association and many others came together to construct a 13-acre reservoir and subirrigation system at a research site in Missouri. This video shows how a large project drainage water recycling project came together.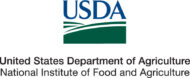 This material is based upon work that is supported by the National Institute of Food and Agriculture, U.S. Department of Agriculture (award numbers 2015-68007-23193, 2017-67026-26317, and 2018-70003-27661) and the U.S. EPA (award number 83675301). Any opinions, findings, conclusions, or recommendations expressed in this publication are those of the author(s) and do not necessarily reflect the view of the U.S. Department of Agriculture or U.S. EPA.