New Fall 2020
Drainage water recycling is now included in NRCS Conservation Practice Standard 447 Irrigation and Drainage Tailwater Recovery . The new definition in this national standard is "a system designed to collect, store, and convey irrigation tailwater, rainfall runoff, field drain water, or combination thereof for reuse in water distribution to the crop". Although the term "drainage water recycling" is not used explicitly,  the revised standard will allow NRCS funding for this practice once approved by states.  Most Midwestern states do not yet have this standard in their Field Office Tech Guide, so State Technical Committees will need to approve it before it will be available. Tools, guidance, and training also need to be developed. This presentation at the Conservation Drainage Network meeting in June 2020 by Ruth Book, retired State Conservation Engineer in Illinois, explains the process NRCS will use to move forward.
Drainage water recycling is the practice of capturing excess water drained from fields, storing the drained water in a pond, a reservoir, or a drainage ditch, and using the stored water to irrigate crops when there is a water deficit. Relative to conventional drainage, drainage water recycling has two major benefits: (1) increased crop yield resulting from supplemental irrigation and (2) improved downstream water quality.  This practice holds great promise within the U.S. Midwest where tile-drainage is prevalent and the crop season can often be punctuated by both excessively wet and excessively dry periods. The Transforming Drainage project brings together research from experimental drainage water recycling sites across the U.S. Midwest to evaluate the full potential of drainage water recycling to improve crop production and water quality within tile-drained landscapes.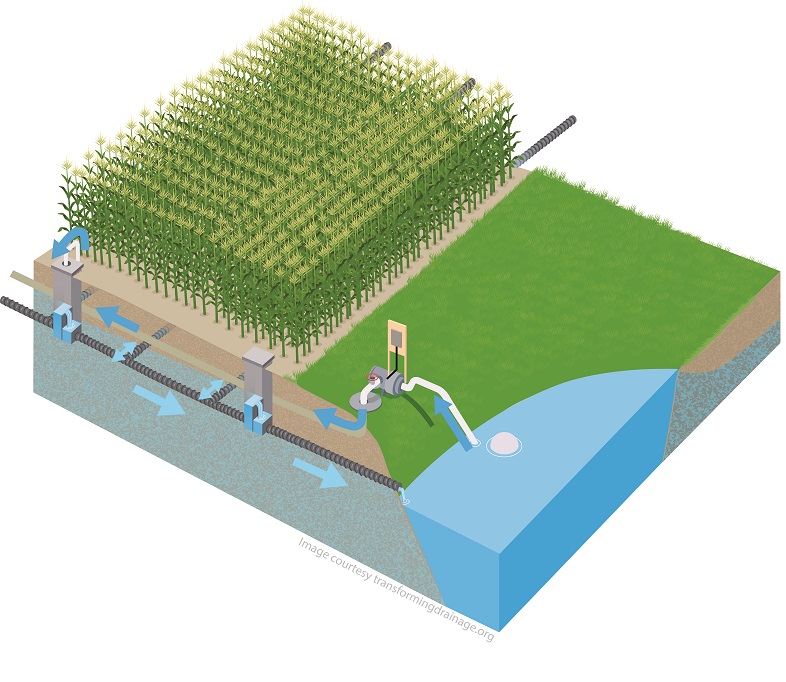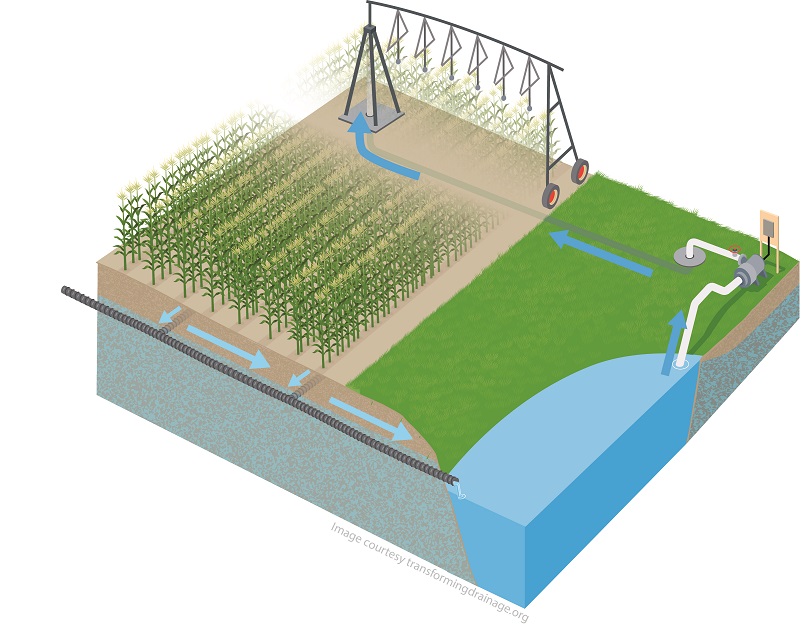 Understanding the Practice and Its Benefits
This award-winning extension publication by ten authors from around the Midwest provides answers or strategies for questions including "How much crop yield increase can be expected?" and "How large does the pond need to be?". It is recommended as an introduction to the practice and what is currently known about drainage water recycling.
NRCS Practice Standard
Designs and Case Studies
Webinars and Videos
Decision Tools
News and Media
Research Posters and Reports
Research Papers