Drainage water recycling is the practice of capturing excess water drained from fields, storing the drained water in a pond, a reservoir, or a drainage ditch, and using the stored water to irrigate crops when there is a water deficit. Relative to conventional drainage, drainage water recycling has two major benefits: (1) increased crop yield resulting from supplemental irrigation and (2) improved downstream water quality.  This practice holds great promise within the U.S. Midwest where tile-drainage is prevalent and the crop season can often be punctuated by both excessively wet and excessively dry periods. The Transforming Drainage project brings together research from experimental drainage water recycling sites across the U.S. Midwest to evaluate the full potential of drainage water recycling to improve crop production and water quality within tile-drained landscapes.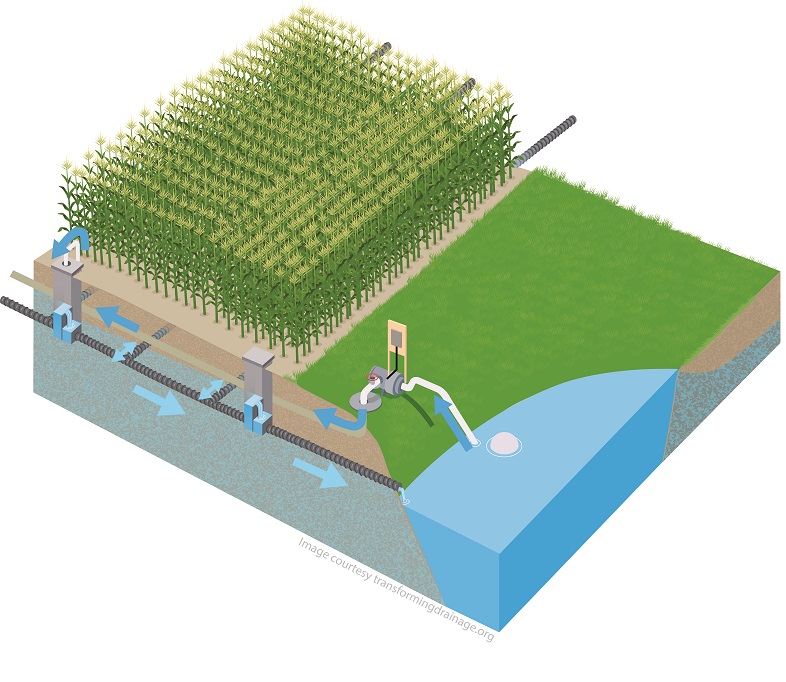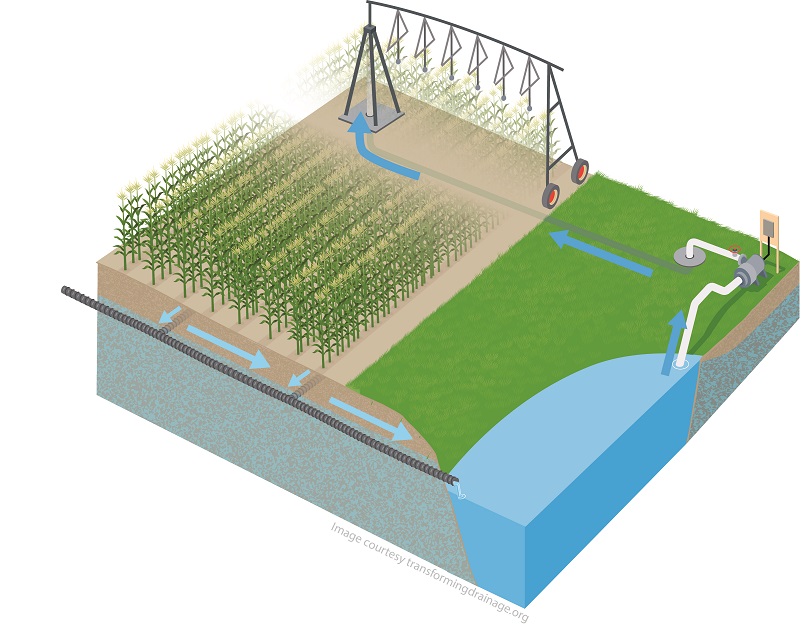 Understanding the Practice and Its Benefits
This 4-part video series was created based on interviews with drainage researchers, farmers, and contractors to document how this innovative practice is being implemented in Michigan, Minnesota, and Missouri. These videos include information about planning, constructing, and managing drainage water recycling systems, as well as benefits received and lessons learned from each of these case studies.
This video shows the goals, challenges, and implementation of a 5-acre reservoir and subirrigation system at a 100-acre field lacking a drainage outlet in southeastern Michigan.
Minnesota researchers have monitored crop water needs to understand the yield benefits of drainage water recycling. This video highlights the challenges and considerations.
The Missouri Land Improvement Contractors Association and many others came together to construct a 13-acre reservoir and subirrigation system at a research site in Missouri. This video shows how a large project drainage water recycling project came together.
This award-winning extension publication by ten authors from around the Midwest provides answers or strategies for questions including "How much crop yield increase can be expected?" and "How large does the pond need to be?". It is recommended as an introduction to the practice and what is currently known about drainage water recycling.
Increasing water storage on the landscape can provide greater water security for growing crops while reducing nutrient losses to our streams. This video shows how storing water through controlled drainage or drainage water recycling leads to more resilient agricultural systems and improved downstream water quality.
Drainage water recycling captures and stores agricultural drainage water for reuse as supplemental irrigation. The practice can increase crop production while also benefiting downstream water quality. Depending on management, drainage water recycling can also provide other complementary benefits. This paper discusses research needs to advance drainage water recycling. 
NRCS Practice Standard
Designs and Case Studies
Webinars and Videos
Decision Tools
News and Media
Research Posters and Reports
Research Papers