Drainage water recycling diverts surface and subsurface drainage water into on­-farm ponds or reservoirs, where it is stored until it can be used by the crop later in the season. Tile drainage occurs mostly in the spring, while crop water use in mid- to late summer may result in periods when insufficient water is available. Drained water stored in the spring can provide value to crops in the summer.
Drainage water recycling can be a closed loop system where the drained water from a field is recirculated onto the same field, or water drained from one field can be used to irrigate a different field.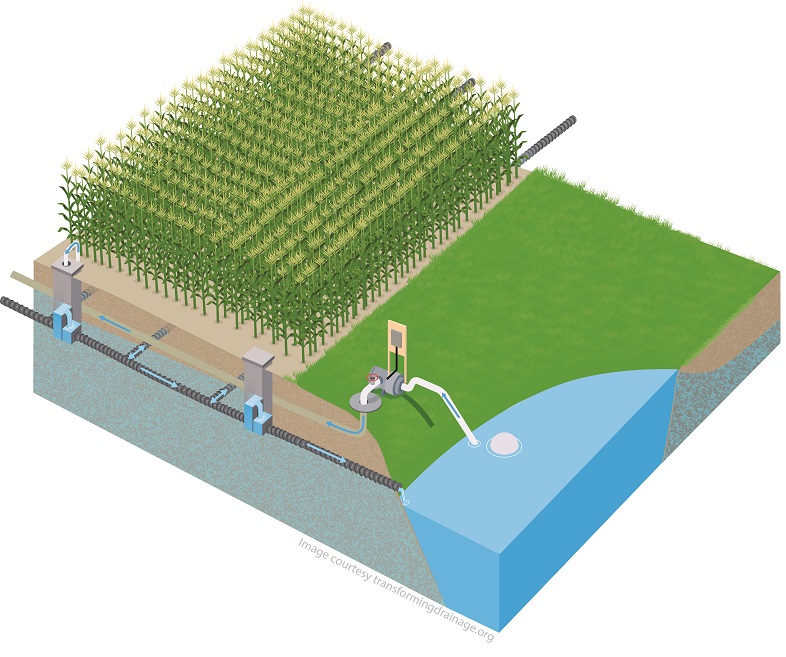 Irrigation may be through subirrigation that raises the soil water table by flooding the subsurface drain tiles (above), or sprinkler systems such as a center pivot, or other technologies.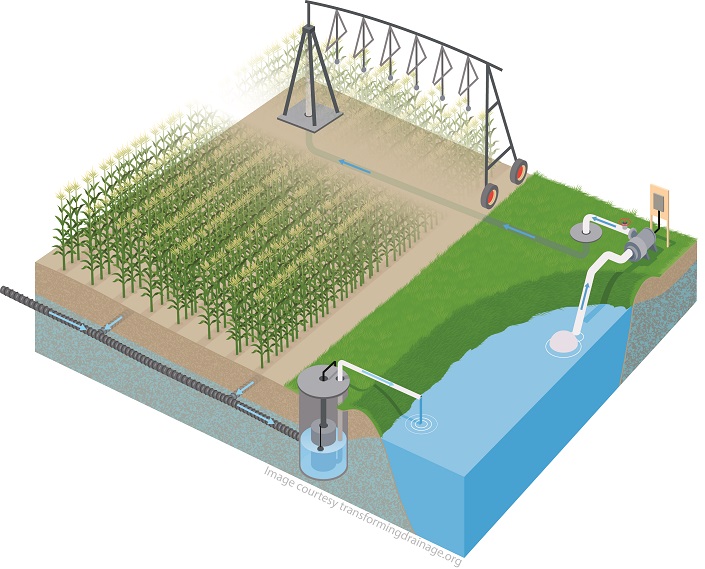 Understanding the Practice and Benefits
On-Farm Water Recycling as an Adaptation Strategy for Drained Agricultural Land by Frankenberger, J., B. Allred, D. Gamble, W.J. Baule, L. Brown. An extended abstract for the ASABE Climate Change Symposium, using yield results from the Ohio Wetland-Reservoir-Subirrigation systems to estimate future yield benefits of drainage water recycling. (2015, 3 pages)
Keeping water on the land: how, where, and when? by G. Ali, University of Manitoba. Explores potential locations and timing for on-farm water storage in Manitoba, such as expanded ditches, ponds, wetlands, and demonstrates GIS analysis to identify appropriate locations. (2013, 38 slides)
Cost­-Benefit Analysis of Three Proposed Distributed Water Storage Options for Manitoba by Jason Dion and Matthew McCandless. A detailed report for the International Institute for Sustainable Development (2014, 45 pg)
Livestock Reservoir Wetland Sub­Irrigation System by Lenawee Conservation District. A report describing the economic and environmental cost benefit of implementing a variation of the Wetland Reservoir Sub­-Irrigation System (WRSIS) to treat livestock wastewater and sustain subirrigation in cropland.
Controlled Drainage/Subirrigation (CDSI) Background Report and Design Guide

by Land Improvement Contractors of Ontario.  A 5-chapter online PDF report providing a research overview and design/operation guide for controlled drainage-subirrigation water table management (2008, 70 pgs)

Effect of Optimal Water Management for Sustainable and Profitable Crop Production and Improvement of Water Quality in Red River Valley

by North Dakota State University, University of Minnesota, and Buffalo-Red River Watershed District.  A Final Report for a 3-year USDA-SARE funded project evaluating yield, water quality, and water balance for various drainage practices including controlled drainage and subirrigation (2011-2014)
NRCS Practice Information for Ponds and Irrigation Reservoirs
Currently NRCS does not have a specific conservation practice standard for drainage water recycling.  Several pond and related standards may be relevant in certain areas.
Farm Press Articles