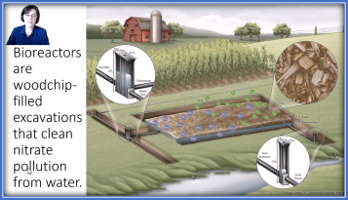 Instructor: Dr. Laura Christianson, University of Illinois
Overview: This module gives a basic introduction to denitrifying "woodchip" bioreactors which remove nitrate from subsurface drainage.
After completing this module, students will:
Be able to describe for bioreactors:

Their mode of action
Benefits and opportunities
Implementation challenges

Develop familiarity with USDA NRCS Conservation Practice Standards
Step by Step Guide to Complete the Module:
Watch the videos in order to achieve the learning objectives.
Perform the quiz.

This material is based upon work that is supported by the National Institute of Food and Agriculture, U.S. Department of Agriculture (award number 2018-70003-27661). Any opinions, findings, conclusions, or recommendations expressed in this publication are those of the author(s) and do not necessarily reflect the view of the U.S. Department of Agriculture.