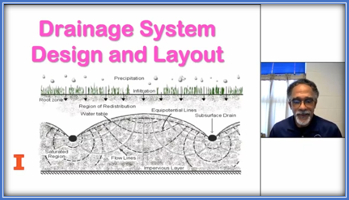 Instructor: Dr. Richard Cooke, University of Illinois
Overview: This module discusses quantitative aspects of subsurface drainage design, including drain spacing and depth, developing a layout, determining grades and depth, and pipe sizing. It also introduces the Illini Drainage Tools for facilitating the layout of a drainage system.
Outline, PowerPoint, Homework
After completing this module, students will be able to:
Determine drain spacing and depth to meet various objectives
Calculate pipe flows and capacity in various situations
Be familiar with online tools that can be used to make design decision, including the Illini Drainage Tools
Step by Step Guide to Complete the Module:

This material is based upon work that is supported by the National Institute of Food and Agriculture, U.S. Department of Agriculture (award number 2018-70003-27661). Any opinions, findings, conclusions, or recommendations expressed in this publication are those of the author(s) and do not necessarily reflect the view of the U.S. Department of Agriculture.