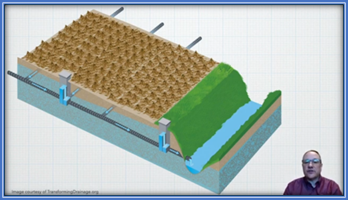 Instructor: Dr. Christopher Hay, Iowa Soybean Association
Overview: This module introduces the practice of controlled drainage, which adds the ability to raise and lower the drainage outlet to control the timing and amount of water released from the system. Controlled drainage reduced nitrate loss from the drainage system, and can provide modest yield benefits by conserving water during the growing season.
After completing this module, students will be able to:
Describe the concept and goals of controlled drainage
List site characteristics for fields that are most suitable for controlled drainage
Explain the concepts of control structures and water management zones for controlled drainage
Discuss the zone elevation interval and the design tradeoffs that come with that choice
Describe the differences between the design of controlled drainage systems and traditional drainage systems
Discuss, and give examples of different management scenarios for controlled drainage
Step by Step Guide to Complete the Module:

This material is based upon work that is supported by the National Institute of Food and Agriculture, U.S. Department of Agriculture (award number 2018-70003-27661). Any opinions, findings, conclusions, or recommendations expressed in this publication are those of the author(s) and do not necessarily reflect the view of the U.S. Department of Agriculture.