One of the primary objectives of the Transforming Drainage project is to foster collaboration among a wide network of stakeholders. This project aims to bring together academic researchers, agencies, and private sector partners as well as engage local stakeholders including agricultural producers, watershed coordinators, and others to provide the research based information and decision support tools needed to implement drainage water retention practices.
To learn more about becoming a collaborator you can check out out Collaborator Guidelines for more information.  If you would like to learn more about the project and stay up to speed on activities you can Join Our Email List.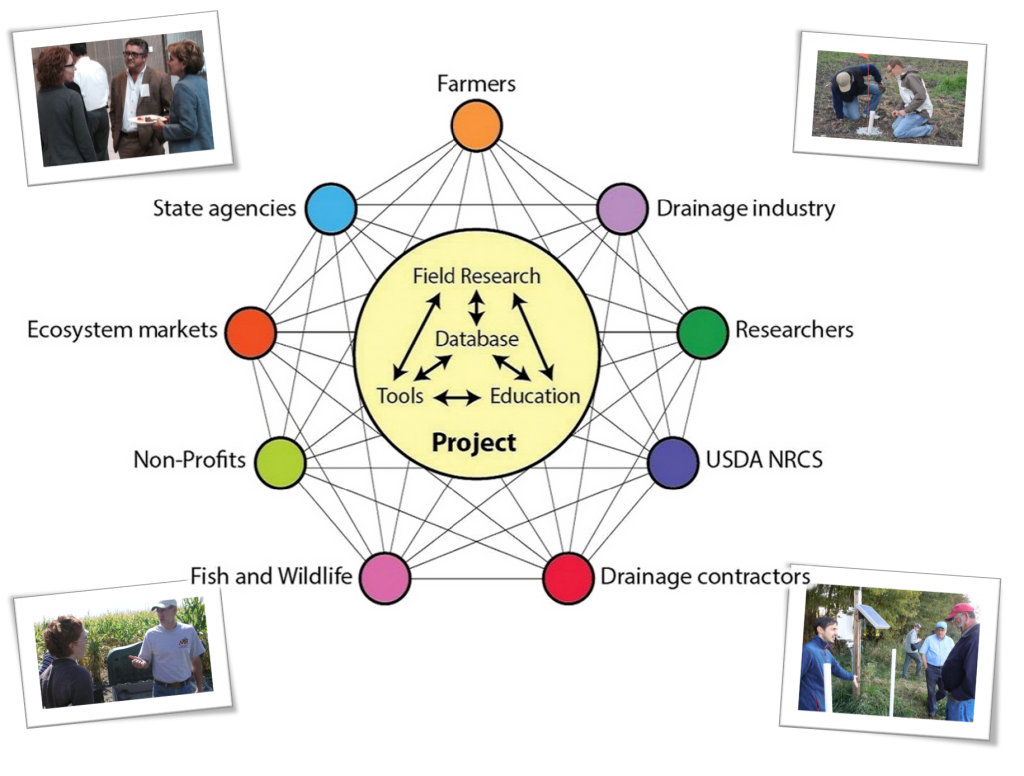 Our Advisory Committee includes representatives from a wide range of stakeholders to provide a network to gather feedback, deliver new ideas, and extend existing and future research. Individual partners and collaborators also provide opportunities to advance education, outreach, and applications of water management concepts.
Collaborators
| | |
| --- | --- |
| Tom Scherer | Professor and Extension Agricultural Engineer, Agricultural and Biosystems Engineering, North Dakota State University |
| Gary Sands | Professor and Extension Agricultural Engineer, Bioproducts and Biosystems Engineering, University of Minnesota |
| Jeppe Kjaersgaard | Research Scientist, Minnesota Department of Agriculture |
| Norm Fausey | Retired Research Soil Scientist, Soil Drainage Research Group, USDA Agricultural Research Service, Columbus, Ohio |
| Kevin King | Research Leader and Agricultural Engineer, Soil Drainage Research Group, USDA Agricultural Research Service, Columbus, Ohio |
| Barry Allred | Research Agricultural Engineer, Soil Drainage Research Group, USDA Agricultural Research Service, Columbus, Ohio |
| Mark Tomer | Research Soil Scientist, National Laboratory for Agriculture and the Environment, USDA Agricultural Research Service, Ames, Iowa |
| Richard Cooke | Professor, Agricultural and Biological Engineering, University of Illinois |
| Chris Hay | Senior Environmental Scientist, Iowa Soybean Association |
| Ehsan Ghane | Assistant Professor, Biosystems and Agricultural Engineering, Michigan State University |
| Lindsay Pease | Research Agricultural Scientist, Soil Drainage Research Group, USDA Agricultural Research Service, Columbus, Ohio |
| Stephen Jacquemin | Associate Professor, Biology and Research Coordinator, Wright State University - Lake Campus |
Advisory Committee 
Wayne Skaggs
Distinguished Professor, North Carolina State University
Gwen White
Science Coordinator, Eastern Tallgrass Prairie and Big Rivers
Landscape Conservation Cooperative, U.S. Fish and Wildlife Service
Jerry Hatfield
Director, Midwest Climate Hub; Director, USDA Agricultural Research Service National Laboratory for Agriculture and the Environment
Dave De Geus
Associate Director for Agriculture and Freshwater, The Nature Conservancy
Alex Echols
Executive Vice President, Ecosystem Services Exchange; Consultant, Sand County Foundation
Bob Clark
President, Land Improvement Contractors of America; CEO, Clark Farm Drainage
Ruth Book
State Conservation Engineer, Illinois USDA ­Natural Resources Conservation Service
Charlie Schafer
President, AgriDrain Corporation; President, Agricultural Drainage Management Coalition
Brian Hicks
Farmer and Research Collaborator, Nettiewyynnt Farm Limited Partnership